Live for the experience, not the extravagance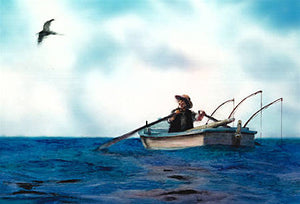 History of Jonathon Yacht
Jon Yacht: Founded in 1849 by Jonathan Yacht, a blue collar working class American who believed that being out on the water is not a matter of spectacle, but a connection with nature herself…providing experiences and sustenance.

Realizing that fat cats and their fancy boats garner unnecessary attention, Jon Yacht dedicated himself to those who choose adventure over accolades and experience over status.

Life on the ocean is more than deep drafts and fancy hulls, it's about the connection with nature and all that it offers. Jon Yachts goal is to live in the simplicity of the moment…being on the water does not need to cost a fortune.

Instead, lets all take a step back and embrace that shallow draft lifestyle. Live for the experience, not the extravagance.
Tiny Boat Nation
We have teamed up with the TBN! Doing a build? Need advice, tutorials, part recommendations? This is THE central location for tried and true parts for your Jon Yacht! Check them out below and use code: "JONYACHT" for 5% off all products!
Show me TBN!
Social Media
Check us out social media!
Instagram @thejonyacht
Facebook The Jon Yacht
Facebook group: The Jon Yacht
Youtube: Up and coming! we havent started to add much content yet, but subscribe now! We will be posting videos on maintenance tutorials, fishing videos, and general debauchery on jon boats.
Why Jon Yacht?
Experience Over Extravagance
The Jon Yacht is a boat that most of us grew up on, the boat we grew to love the outdoors in, and the boat that provides countless memories and experiences. The experiences and simplicity are what the Jon Yacht is all about.
We offer affordable gear to keep your trip comfortable and experience high. 

Free Shipping on orders over $50
Returns and Exchanges
Each shirt ordered is made when purchased and shipped within 1-2 days, so double check your sizes with the correlated size chart on the item before final purchase. Once orders are verified with print vendor, I cannot change the order. Once received, because each shirt is made to order, I cannot exchange or return shirt. Please verify measurements before order!
Unless damaged, hats cannot be returned or exchanged, all hat sales are final. If your item has a print issue, defect or other problem, please let me know and submit photos to the below email. I will make sure a reprint is sent your way for free. 
Any issues, feedback, recommendations (good and bad), complaints, thatta-boys, F**k You's--
Please email- lowcountrychoicellc@gmail.com